TDS just became more powerful and have achieved SCIM (System for Cross-Domain Identity Management) compliance with visitor management in our latest SE2 upgrade! This is the latest integration to be added to TDS' list of innovative and cutting edge workplace security technology as part of our exciting TDS Visitor SE2 launch.
What is SCIM Compliance?
SCIM is an open-standard that allows for the automation of user-provisioning. With SCIM, all global organisations can communicate user identity between identity providers (such as companies with multiple individual users) and service providers requiring user identity information (such as enterprise SaaS apps).
Automatic provisioning of accounts has become a necessity this year for IT administrators and global organisations. With SCIM, organisations are able to create a single 'master; account and add this to other systems which all use the same user information. With this in place, the administrators can put their focus to developing the IT infrastructure. Handling user requests to create accounts, reset passwords and other administration tasks can now be handled automatically with SCIM's identity management system.
How Will it Integrate With TDS Visitor Management?
An example of SCIM in use is that as a company on-boards new employees and separates from existing employees, they are added and removed from the company's electronic employee directly.
The main benefits of the SCIM integrations include, making user data more secure, simplifying the user experience, and automating the user identity lifecycle management
SCIM can be used to automatically add/delete (or, provisional/de-provision) accounts for those users in external systems such as G-Suite, Office 365, or Salesforce.com. Then, a new user account would exist in the external systems for each new employee, and the user accounts for former employees night no longer exist in those systems.
How to Adopt SCIM to Your Visitor Management Solution
In addition to simple user-record management (creating and deleting), SCIM can also be used to share information about user attributes, attribute schema, and group membership. Attributes could range from user contact information to group membership. Group membership or other attribute values are generally used to manage user permissions. Attribute values and group assignments can change, adding to the challenge of maintaining the relevant data across multiple identity domains.
The SCIM standard has grown in popularity and importance as organisations use more SaaS tools. A large organisation can have hundreds of thousands of hosted applications (internal and extended) and related servers, databases and file shares that require user provisioning. Without a standard connection method, companies must write custom software connectors to join these systems and their IdM systems.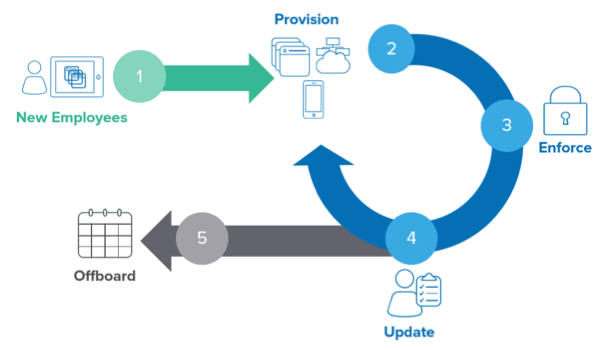 Why Global Organisations needs SCIM Compliance
SCIM makes user data more secure and simplifies the user experience by automating the user identity lifecycle management process and using a standardised API through REST with data formatted in JSON or XML.
As companies grow, innovate and experience employee turnover, their number of accounts increases exponentially. Employees use them for everything from customer relationship management to team collaboration. Requests to add and delete users, change permissions, and add new types of accounts all take up valuable IT department time.
Returning to Work Confidently With TDS Visitor SE2
TDS' main mission of 2020 is to help global organisations return to work safely and to prepare for a workplace post-pandemic. With TDS Visitor SE2, your visitor management system will have all new pandemic-proof features to help users return to work with confidence. This combined with the TDS Safeguard solution is providing companies around the world with a safe and secure solution etc.
These solutions together will provide your organisation with the confidence it needs to continue with business as usual following the strain the recent few months has had on businesses globally.
TDS Visitor SE2 is available now
!
Series 2 is here! Click the link below to discover how the latest version of Digital Visitor Management is protecting your organisation and its personnel in our biggest upgrade yet.